For many of us the New Year brings a promise to get fit and to stay that way. There are plenty of reasons (or excuses) we don't follow through on this promise, but for those who take up running, the right equipment can certainly help.
First of all, the right running shoe can make a huge difference to the way that we run and can also help reduce the risk of injury. To find the right shoe, it's often helpful to determine what foot type you are. For the purposes of this very basic and pretty unscientific test, take a shower and then walk as normally as you can (no strutting) across a tiled floor. The footprints you leave can give an idea of your foot mechanics.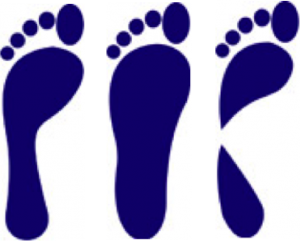 Normal Foot– there is a "flare" visible on the instep of the foot but also a clear band between the fore and hindfoot. This is considered the norm as it indicates there is an appropriate degree of movement in the foot without hypermobility. Neutral shoes are the best option for people with this kind of foot- but make sure your arch has some degree of support.
Flat foot or pronated– this type of foot has a much less clearly defined shape on the instep. It is common in people with hyper-mobile foot ligamenture. As the foot joints move more than desired, it is imperative that the foot is supported by a sturdy shoe with a good arch support. Look for a shoe with high stability features to prevent over pronation (rolling in) of the foot. This foot condition is very common and can lead to a number of complications such as knee and low back pain making supportive shoes a must.
High arch– Again a flare is present on the instep but with a high- arched foot there is a loss of the band between the forefoot and hind-foot. This is often an indication of the joints of the feet being hypomobile (not moving as much as they should). Because of the lack of movement in the foot a flexible shoe can be a great option to encourage more mobility.
Picking the perfect pair of trainers can be very difficult and there are plenty of places that offer a bespoke fitting service and can be worth paying that little bit extra for. Barker's of Ringwood (www.barkers-ringwood.co.uk/) do offer such a service although they are closing at the end of January. For more information or advice please contact us at info@ringwoodchiropractic.co.uk or call 01425 474046.