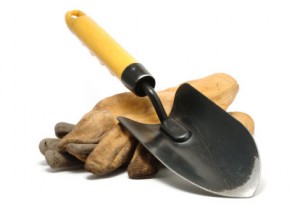 The nation's gardeners will be coming out of the woodwork this spring as the gardening season sets in. With everyone in a rush to get those jobs done in the garden, there is a risk that gardeners may injure themselves. In an attempt to keep everyone healthy enough to actually enjoy sitting in their garden come summer time, Avon View Chiropractic has identified some tips to help you get through those garden tasks safely.
Don't start with heavy-duty gardening – start with the lighter jobs, like mowing the lawn, and then move on. If you are pruning, use long handled secateurs and get as close to the plants as you can!

Don't twist again – if you have to use a ladder to reach trees, hedges, large shrubs or fences– treat it like a dancing partner, always face it and move the ladder regularly. Always keep your shoulders, hips and knees pointing in the same direction. Also, make sure the ladder is firmly and safely planted in position and, wherever possible, have someone else standing at the base to keep an eye on things!

If laying a patio, keep the slab close to your body and bend your knees. It is sometimes better to bend one knee rather two as your supporting leg gives you a position of strength.
Dress appropriately – don't wear tight, constricting clothes.
Vary your activity; spend no more than 20-30 minutes on any one thing and take regular breaks.
If you are planning a trip to the garden centre and buying heavy items like bags of compost or pebbles – buy more small bags, rather than one big bag. Smaller items are easier and safer to carry. If there is no other option, ask someone else to help carry it to the car and then when you get home, shovel out smaller quantities straight from the car and put it in to small containers.
Treat gardening like normal exercise; you need to warm up and warm down
Pain is a warning sign do not ignore it – if you start to ache then stop what you are doing.
For more information: Call Avon View Chiropractic on 01425 474046 or visit our website at www.ringwoodchiropractic.co.uk
[plulz_social_like width="350″ send="false" font="arial" action="like" layout="standard" faces="false" ]